SchoolWeb Librarian is a fully automated index and retrieval system that is included in the CommunityWeb system package.

With three different levels of complexity from Simple Search to Expert Search, SchoolWeb Librarian can be tailored to ensure ease of use for any grade and expertise level.

The browser-based search engine is accessed from the local CommunityWeb server. When a user enters their search criteria, SchoolWeb Librarian will search the designated educational database.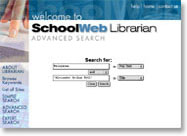 SchoolWeb Librarian's search windows offer 3 levels of complexity.
If the requested information hasn't been previously stored (cached), SchoolWeb Librarian provides a link to other educational search engines.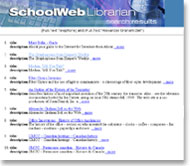 A typical search results screen.
A sophisticated filtering mechanism prevents undesirable websites showing up in the search results.